Commercial Garage Doors - Stacy Garage Door
Roll-up and overhead doors are most common in the commercial sector. The door may occupy valuable space inside the building if it opens out or up. Lights, sprinklers, and HVAC applications could be interfered with by doors that run up and over tracks. We offer excellent quality services for commercial doors at Stacy Garage Door. In addition to providing commercial doors, we can also install, repair, and replace these doors. Our reliable and cost-effective services will help you.
Compared to rolling doors, overhead doors are more expensive to install. You can use your door to protect your car, store holiday decorations, and work on your workshop. Nevertheless, your commercial facility's door is vital to protecting your business and your staff.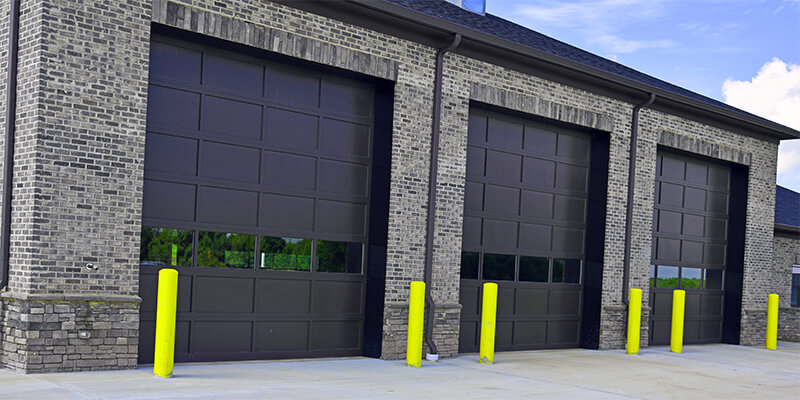 Commercial Door Services in Stacy, MN
Besides being your office, it's also where you keep tools, equipment, stock, and anything else you need to run your business. Furthermore, as door technologies develop, they can be used for purposes beyond industrial applications. The industrial aesthetic of doors attracts retail stores, restaurants, and other businesses. Therefore, you must hire a dependable and realistic team to handle all of your commercial door problems. You can get commercial door services from Stacy Garage Door. Our specialties include repairing and replacing openers, motors, rollers, springs, and door panels. We are the experts you can rely on!
Commercial Garage Door Openers - Serving as an Aesthetic Choice!
Commercial door openers improve productivity. In addition to serving as an aesthetic choice, doors can open up spaces in restaurants and stores.
There are frequent openings or closings of all the doors in a building, depending on the needs of the building. If you want to keep your workplace clean and efficient, it is essential to find the right opener. Commercial garage doors have openers used in business and commercial buildings that are made to withstand their frequent use and additional weight. Let us know how we can help. We offer a variety of door openers and can install them for you. A door opener is available in many sizes, powers, and functions. Regardless of what they are, they all perform one common function: they open the door. We offer chain drive door openers, ultra-quiet belts, and heavy-duty models with safety sensors.
Garage Weather Stripping - Let Us Help You!
Having weatherstripping on your garage will not only help you prevent flooding but will also help you improve your energy efficiency. It keeps cool air inside during the summer months. Weatherstripping keeps the temperature stable during winter by keeping rain and water out.
Generally, residential doors will not need weatherstripping. In most cases, garages do not need to be heated during the winter unless used as workshops.
Using weather stripping, water is redirected away from the openings of windows and away from the building. Additionally, it is meant to save energy on air conditioning and heating and to contain interior air for comfort. Let us help you with weather stripping. We can handle garage work for you.
Commercial Garage Door Repairs - Get Our Quality Tips and Guides!
Garage doors used in commercial buildings are subjected to more testing than residential doors. Hundreds of doors open to allow deliveries in a warehouse. Tire-change operations require opening and closing these doors constantly. Some parking garages operate 24/7.
Due to this, they need to withstand frequent usage not seen in residential buildings. The parts, however, will wear out with time. Maintenance, service, and repair of commercial doors have been part of the Stacy Garage Door focus for decades.
No matter if a torsion spring is broken or if you need to replace an electric door opener. Our garage door repairman provides tips and guides regarding the service, repair, or maintenance of your door.
Commercial Garage Door Replacement - We Work For Your Safety!
A grinding roller, a door that will not be completely open, or door springs that snap during lifting should be replaced. It can be frightening to have a torsion during spring break due to the potential for damage caused by a broken one. Garage doors can weigh more than 400 pounds!
Garage door repair Stacy, MN service expert, provides maintenance, replacement, and repair services for commercial doors that stop halfway up, refuse to open and close or have a couple of broken hinges. You should call top professional hands to replace different parts of garages. It is necessary to ensure your safety and the safety of your employees.
Bring New Life To Your Garage!
Accidents frequently occur at garage doors. It is not always necessary to replace the entire door, but the damage must still be repaired. That is why individual parts or panels can be replaced. Many models and brands have replacement parts available. With all the tools and expert hands available, we can check out your garage, save you time and money, and ensure your employees are safe.
Commercial Garage Doors - FAQs